Contact & Location
Contact our Markham Hotel
Conveniently situated in the heart of the high-tech capital of Canada and nestled just north of Highway #7, the Monte Carlo Inn - Toronto Markham™ is close enough to where you need to be in downtown Toronto, but far enough to make us a welcoming and relaxing place to stay. With three major highways in close proximity and shopping districts, Angus Glen Golf Course, and a host of local restaurants and attractions minutes away, our location and quality will pleasantly surprise you.
If you require information regarding our accommodations, restaurants or meeting and social event facilities, please complete the information below and one of our Sales Managers will get back to you promptly. Alternatively, you can contact us at the address, phone numbers or email address below.
Monte Carlo Inn & Suites – Toronto Markham™
8900 Woodbine Ave.
Markham ON L3R 5K6
Monte Carlo Inn Toronto Markham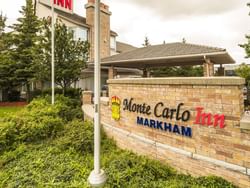 The Monte Carlo Inns - Toronto Markham™ hotel was created to provide guests with the ultimate in luxury, comfort, value and boutique-style service with amenities such as an onsite restaurant.