Contact & Location
Enjoy your stay in Toronto West Mississauga
The Monte Carlo Inn – Toronto West Suites™ combines comfortable hotel accommodations with proximity to the heart of the commercial and financial district of Toronto West/Mississauga, minutes from downtown Toronto and just a stone's throw from major local attractions like Toronto Pearson International Airport, Sherway Gardens Shopping Centre and a wealth of restaurants, pubs and theatres.
If you require information regarding our accommodations, restaurants or meeting and social event facilities, please complete the information below and one of our Sales Managers will get back to you promptly. Alternatively, you can contact us at the address, phone numbers or email address below.
Monte Carlo Inn – Toronto West Suites™
1886 Dundas St. East
Mississauga ON L4X 1L9
Monte Carlo Inn Toronto West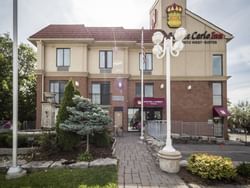 The Monte Carlo Inns - Toronto West Suites™ was created to provide guests with the ultimate in comfort, value while being only 10 minutes a way from both Toronto's and Mississauga's downtown core.