Contact & Location
Connect with Us
The Monte Carlo Inn - Vaughan Suites™ is strategically situated at the corner of Highway #7 and Highway 400 in Vaughan, Ontario and minutes from Vaughan Metropolitan Subway Station. Located in the heart of the financial, commercial and retail district of Vaughan/Toronto North, we're only minutes away from the Vaughan Mills Mall, Canada's Wonderland amusement park and a host of banquet halls and restaurants.
If you require information regarding our accommodations, restaurants or meeting and social event facilities, please complete the information below and one of our Sales Managers will get back to you promptly. Alternatively, you can contact us at the address, phone numbers or email address below. 
Monte Carlo Inn - Vaughan Suites™
705 Applewood Cres. Vaughan ON L4K 5W8
Monte Carlo Inn Vaughan Suites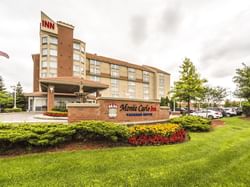 With remarkably spacious suites, superb rates and a convenient location, the Monte Carlo Inn – Vaughan Suites™ hotel was created for guests who seek the ultimate in luxury, comfort, value and warm, friendly service.